← Back to Blog
Introducing Standalone Mode
August 1, 2023
Tada! 🎉 Now website owners can start using Backlink Cafe without installing our WordPress Monetization plugin and still benefit from our escrow features, content matching and automatic link/content suggestions based on your existing content.
Why not just use a plugin?
There might be a few reasons why you (or some website owners) might not like to use our Plugin just yet. For example:
You just trying Backlink Cafe out.
You don't feel comfortable installing our .zip plugin. It's okay. It takes time to build trust. We get it! (Our plugin is open source and it's code is available for review on GitHub).
You are not using WordPress. We'll start working on supporting other CMS (Content Management Systems) soon. Email our support or Tweet at us which CMS should we integrate with next.
How does Backlink Cafe work in Standalone Mode?
Standalone won't have automatic posting, since only with a plugin you can do that. Website owners would have to manually update their website to either insert a link or publish a guest post. Here is how the process will work, step by step:
Website owner would have to register and verify ownership of their domain name but adding a meta tag to their landing page. It has to be at the root of the domain name. On example.com and not on example.com/some-page
Example of the verification code:
<meta content="verification" value="23ij4f429aedfafr323er…" />

This code won't be visible to your site visitors but visible to our crawler.
We will email it to you. So look for the code right after registration.
Once the ownership is verified, we'll try to crawl your site's (blog's) content to understand what linking and guest post opportunities we can offer for your domain name.
When there is a matching backlink opportunity, we'll send you, the website owner, an email with the opportunity.
You can approve or reject these opportunities in the dashboard on Backlink.Cafe
If you approve an opportunity – you'll have to manually update your website and confirm you've updated it once again on Backlink.Cafe
Once your updated content is indexed, Backlink Cafe will release funds from the escrow to you, the website owner.
If at a later point in time you feel like you are ready to use our plugin, you can always do that. Just install the plugin and it will automatically verify your domain and authorize you.
How to register with Standalone Mode
Head over to our home page and enter your domain name and email into the form on the right: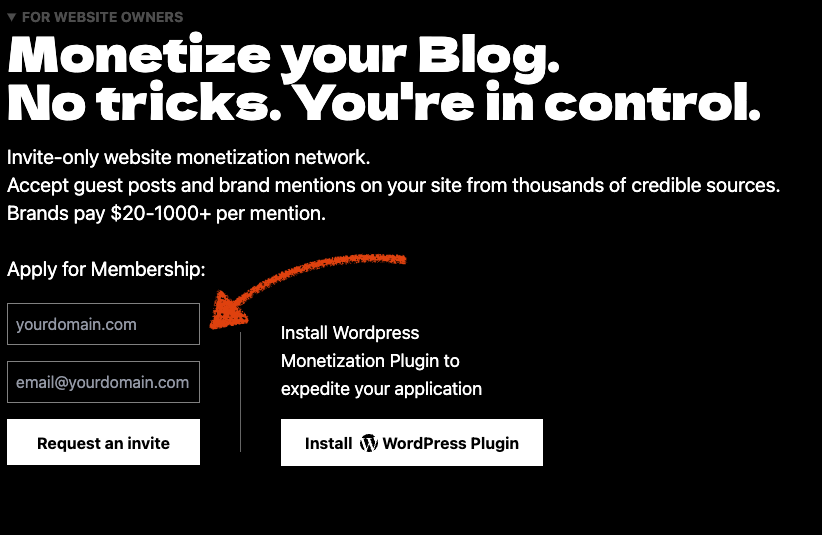 Then click on "Request an invite". We'll register your domain name and send you instructions explaining how to verify your domain name ownership.
Why do I need to verify my domain?
Before we start sending you monetization opportunities, we must ensure you are a true owner and controller of the domain you claim to own. This helps prevent platform, domain name squatting and impersonation attempts.
Downsides of not using Backlink Cafe Monetization Plugin
if you are not using Backlink Cafe monetization plugin you will have to manually update your blog with new links and guest posts. But you can still benefit from our escrow, link tracking and opportunity matching engine.
← Back to Blog