← Back to Blog
How to Monetize your WordPress Website
July 13, 2023
If you've been looking for ways to monetize your WordPress website, you've probably already heard and tried AdSense, Affiliate link Marketing and Sponsored content. All these methods have their pros and cons. In this article we won't focus on AdSense and Affiliate links, but we'll dedicate it solely to sponsored content.
Once your blog starts gaining good traction, you'll start getting spammed by guest post and link insertion offers. Some of these requests will be genuine, high quality, but about 80% are spammy and hard to deal with. Some will also offer you money for publishing a blog post or adding an update to an existing post.
This can certainly be a good way to monetize your blog. But it's quite a bit of work, back and forth emails and stress about payments: no one wants to do a prepayment, while chasing money once your published a blog post can be a pain too…
But there is an easier way, where you can solve this problem in just a few clicks and get paid anywhere from $20 to 1000+ depending on your domain rating and traffic.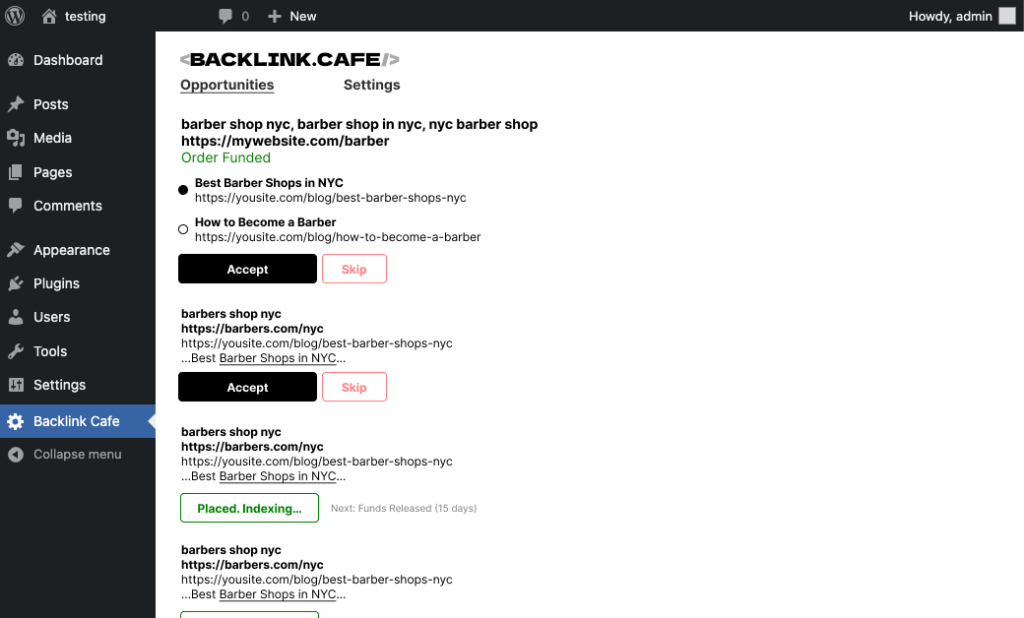 WordPress Monetization Plugin
Backlink Cafe offers a new, easy way to monetize your site. With the Backlink Cafe WordPress Plugin, WordPress site owners can seamlessly transform their websites into revenue-generating platforms. By accepting guest posts and brand mentions from thousands of credible sources, site owners can unlock a steady stream of income. The plugin simplifies the entire process, from finding relevant opportunities based on your website's niche and topic to reviewing and approving each opportunity through the convenient Plugin Dashboard and Email Notifications. Once you approve a content offer, the plugin takes care of updating your blog with the new content, ensuring your website maintains its reputation and authority. Plus, you have full control over pricing, allowing you to set your own rates and maximize your earnings. Say goodbye to complex monetization strategies, email negotiations, stress and say 👋 Hello! to a straightforward and profitable solution with Backlink Cafe's WordPress Plugin.
How does it work exactly?
In our Backlink Cafe Plugin Installation Guide we went into details about how to install it and configure it. But here we'll do a quick overview once again. The process begins by installing and activating the Backlink Cafe WordPress Plugin. Once installed, the plugin starts finding relevant opportunities based on your website's niche and topic. As a website owner, you have full control and transparency as you review and approve each opportunity using the Plugin Dashboard. Once approved, the plugin takes care of updating your blog with the new content. After the content is indexed, you receive payment within 7 days, providing a hassle-free and streamlined monetization experience for your website. With Backlink Cafe, you can effortlessly generate income while maintaining your website's reputation and authority.
← Back to Blog